You are here: Home » Places and Maps
PLACES AND MAPS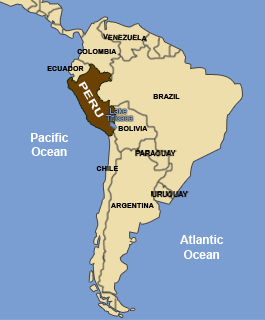 PERU
It is a legendary country for travelers who seek new and exciting experiences.
The Peruvian Andes are debatably the most beautiful on the continent and the mountains are home to thousands of inhabitants, many of them Quechua speakers, who guard their great cultural legacy and keep alive their traditional lifestyle.
ANCASH
It is a land of steep mountains, valleys of awesome beauty and a coast considered to be among the most beautiful of Peru. Its limited space does not stop us from offering a whole spectrum of tourist attractions without equal.
THE COAST:
It is bounded by two of the most important rivers of the coastal plain: the Santa and the Pativilca. It's impossible to speak of the coast of Ancash without mentioning the city of Chimbote, the principal fishing port of Peru and, formerly, one of the most important ones in the world. If its coast is famous for the fishing and canning industry, it is also very important for its beautiful beaches and seaside resorts, such as Vesique, Samanco, Tortugas, El Huaro, Las Gramitas, Las Aldas and Tuquillo, just to name a few.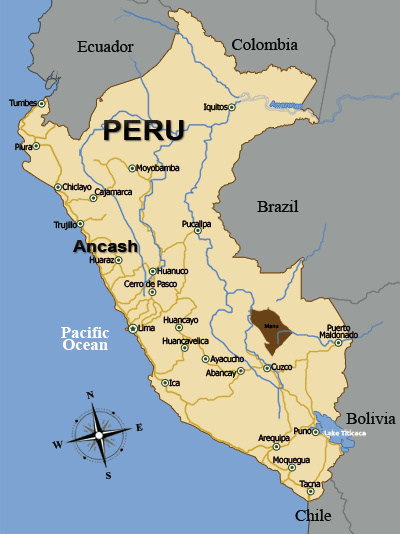 THE CALLEJON DE HUAYLAS:
Formed by erosion of the Santa River along its course between two mountainous massifs, the Callejón extends from south to north, forming a narrow and picturesque intermontane valley approximately 140 kilometers long. On its western side, the Cordillera Negra rises to more than 5000 meters elevation. It lacks snow due to the action of the trade winds that come off the Pacific and impede the formation of mountain glaciers.
On the eastern side of the valley, the landscape is diametrically opposite: nearly one hundred snow-capped peaks, 35 of which exceed 6000 meters in elevation, rise majestically to form the highest tropical mountain chain in the world – the Cordillera Blanca. Many of its peaks are spectacular and world famous (e.g., Alpamayo, Huandoy, Chopicalqui, Chacraraju), but one of them draws one's attention very powerfully: Huascarán, which rises impressively and majestically with its 6768 meters.
THE CALLEJON DE CONCHUCOS:
Located on the eastern flanks of the Cordillera Blanca, it is comprised of a series of traditional towns (Chavín, San Marcos, Huari, Pomabamba, Sihuas) and much more, in addition to its dreamlike landscapes. Two of the pearls of this valley lost in time are Chacas and the Sanctuary of Pomallucay.
« Back